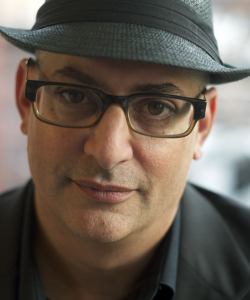 Mitch Goldman has produced literally thousands of live events, television shows, radio programs and digital broadcasts—both inside and outside the pop mainstream—during the last 25 years.
Since January of 2003 Mitch has been a freelance TV producer, director, editor and director of photography.  He has contributed to The Wendy Williams Show, The CBS Thanksgiving Day Parade, The Tony Awards, NBC's New Year's Eve and PBS' Great Performances as well as Ornette Coleman's Meltdown at London's Royal Festival Hall, Breaking the Silence, Beating the Drum in the United Nations General Assembly and Carnegie Hall's Concert for Peace. His company, Will Chance Key LLC, has also created sales and communications tools for clients such as UBS Wealth Management, Harley-Davidson, Fujifilm, Petco and the City of New York.
Mitch began his career by promoting jazz concerts in Binghamton, NY as chairman of the Harpur Jazz Project while also director of jazz programming at WHRW-FM.  This led to an extensive career as manager and tour manager for artists such as Ladysmith Black Mambazo, Ronald Shannon Jackson, David Torn, Samite of Uganda and Vernon Reid. As a tour manager Mitch successfully produced hundreds of concerts across six continents and brought about innovations that extended the promotional and financial impact of the tours significantly.  As an artist manager he developed touring and recording projects for his clients with artists like Stevie Wonder, Peter Gabriel, Spike Lee and Paul Simon; he also brought about Mambazo's role in the award-winning Broadway play The Song of Jacob Zulu.
In 1994 Mitch organized Verve Records 50th Anniversary event, Carnegie Hall Salutes the Jazz Masters.  That concert, shot in HD for NHK-Japan and seen in 46 countries, received an Emmy nomination in the U.S. for its broadcast on PBS' Great Performances.  This began Mitch's career in television, leading to work on dozens of other shows including The Superbowl Halftime Show, the series Sessions At West 54th for PBS, Live By Request for A&E, Bruce Springsteen: Top Of The Pops for Disney and BBC, The Nobel Peace Prize Ceremony and Woodstock 94 among many others.  
As talent manager for broadcast and live events, Mitch has worked with many (many!) artists including Sting, Madonna, Michael Jackson, Robin Williams, Eric Clapton, Lady Gaga, Mstislav Rostropovich, Billy Joel and Smokey Robinson. He has also been production manager for scores of shows, from nightclubs to concert halls throughout the world to football stadiums to arenas like Madison Square Garden. Mitch entered the world of New Media in 1995 by producing the web's first multi-camera music performance as part of the Macintosh New York Music Festival.  
From May of 1999 to November of 2002 Mitch was Chief Content Officer for KnitMedia, the company best known for owning the Knitting Factory clubs in New York and Los Angeles.  He produced and directed 3 seasons of the TV series Live From The Knitting Factory, hundreds of webcasts and 3 years of the distance learning program JazzSchool; he also directed programs with artists ranging from Lou Reed to George Clinton to Yoko Ono to Philip Glass to Mos Def. This greatly broadened the company's global profile and increased its market value substantially.  His team also designed and built 3 television production and post-production studios.
Since 1985 Mitch has been a producer and on-air host at WKCR-FM in New York; he was director of Jazz Programming for one year. Mitch Goldman is a graduate of Columbia University and lives in Manhattan.